If you want to take your gaming experience to the next level, you should know that having the right lighting in your gaming space is crucial. Not only does it set the tone for your setup, but it can also help you create a more professional look for your streams and make your room vivid. In this blog post, we'll go over some of the best gaming room lighting ideas so that you can take your setup to the next level.
In this blog post, we will make sure to clear any of your doubts about gaming lights. We'll explore lighting types, how, why, and when to use them so you'll get all the details you need to pick the right gaming room lighting atmosphere. Without further ado, let's dive in
What are the best lights for gaming?
When it comes to gaming, having the right lighting can make all the difference. Good lighting not only enhances your gaming experience but can also help you to avoid eye fatigue. There are a few things to keep in mind when choosing gaming lights.
First, you'll want to consider the type of gaming you're doing and the tone of your gaming niche. If you're mostly playing FPS gamers, then you'll need a light that won't cause too much glare. For slower-paced games or games that require a lot of reading and more focus, then a softer light may be more appropriate. You may also want to consider how much of natural light and sunlight your room is exposed to. You'll also want to take into account your budget and the size of your gaming space. If you have a large gaming area, then you may want to invest in multiple lights so that you can create different lighting zones.
And finally, if you're also using your gaming setup for online streaming, then you'll need to be sure to choose lights that won't cause any unwanted reflections on your screen. With so many options available, it can be tricky to choose the best gaming lights for your needs. But by considering these factors, you'll be able to find the perfect lights for your gaming setup.
Your gaming setup color
Your gaming room color has a direct impact on your room lighting options. if you have a green gaming setup, it's better to consider the light that matches the green palette, the same thing goes with black and pink. For example, you can't have a pink gaming setup and green led lights in the background, or dark walls it just doesn't match. Long story short, stick to your theme and find what colors match your setup.
What types of lighting do you need for your gaming setup?
1. Ambient Lighting
One of the most important things to consider when it comes to gaming room lighting is ambient lighting. This is the light that fills the space and sets the overall tone for the room. For gamers, ambient lighting should be dim and relaxing so that you can stay focused on your game. For streamers, ambient lighting should be bright and evenly distributed so that your viewers can see what's going on clearly.
2. task Lighting
In addition to ambient lighting, you'll also want to include task lighting in your gaming space. Task lighting is designed to illuminate specific areas of the room so that you can clearly see what you're doing. While it's an optional feature as most of the gaming peripherals will come in RGB lights like the keyboard or mouse, you might consider some RGB task lighting to focus on some specific areas of your room.
3. accent Lighting
Accent lighting is a type of lighting that is used to highlight certain features in the room. For gamers, accent lighting can be used to highlight your custom-built PC or gaming console. For streamers, accent lighting can be used to highlight your webcam or green screen. Accent lighting is not essential for gaming rooms, but it can help add a touch of style to your space.
4. LED lights
LED lights create soft and relaxing environments, Yet are the most commonly used by gamers. it offers many color options.
and it comes in many models like LED light strips and RGB LED.
5. Laser lights
With laser lighting, you'll get tons of flair and thousands of small beams that light up your wall or roof. It projects rich and vibrant color which adds great value to your setup.
6. Skylights
Sky Lights are wonderful, they generate patterns of star-filled nights or wispy galaxies that flares across your room. Find the right projector and point it to the wall or ceiling and enjoy the view. With galaxy lights, you have many options for reaching exactly the game room lighting you need.
7. Fan lights
Fan lights are very common in gaming environments, they not only cool your tower during a long gaming session, but they also keep your setup amazingly lit. Most PC cases come with RGB fans, but you can also add more fan lights according to your need. They are affordable and look cool.
8. Projection lights
Projection lights are just amazing, they might be similar to skylights but they use a plugged-in laser projector or laser light bulb to transform your gaming space into an amazing place that will impress your followers. They are portable, easy to use, and come in plenty of colors and filters and it will take just a moment to switch up and light up your room exactly how you like.
9. Portable lights
Portable lights are essential for camera recording and online streaming purposes, if you're on camera you would want some parts to be a bit brighter than others, or only light one side of your face and keep the other dimmed. There are plenty of streaming and recording techniques that require portable lights.
Best Picks for Gaming Room Lighting Ideas
1. Philips Hue Play Light Bar
2. LONRISWAY Table Lamp
3. Nanoleaf Aurora Rhytons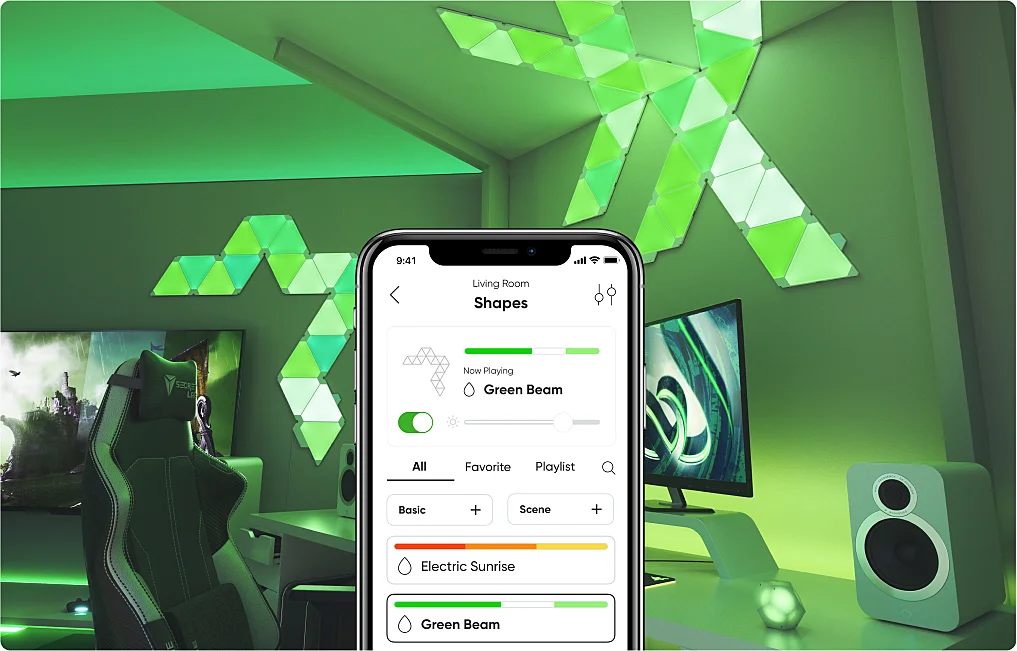 These stunning lights from Nanoleaf are very popular among gamers, they come in a variety of shapes and sizes, meaning you can create a truly unique gaming setup scheme. They're also programmable, so you can sync them up with your favorite games for an immersive experience.
4. LIFX Beam
5. Razer Chroma Underglow Lighting Kit
6. Corsair iCUE Spotlighting Kit.
7. Controller Neon Signs
How do you light a gaming room?
For most people, gaming is a fun hobby that can be enjoyed in a variety of settings. For others, it's a professional career that every detail is being taken care of with caution! That said, if you want to take your gaming to the next level, you may want to consider setting up a dedicated gaming room and learning how to use and place those tools and accessories correctly. In addition to giving you more space to spread out and making it easier to concentrate on your game, a gaming room can also be a great place to stream your gameplay or host gaming sessions with friends. So here are a few tips
Take into account the type of games that you typically play. you should be playing many types of games, which means long gaming sessions, so make sure you have enough light around that doesn't interfere with your gaming experience but also low enough to not hurt your eyes.
Think about the time of day that you usually play. If you're an early riser who likes to get in some gaming before starting your day, natural sunlight may be all you need. However, if you're more likely to play late at night or during the evening hours, you'll need to supplement your lighting with some artificial light sources.
Don't forget about the ambiance. While bright lights are great for gameplay, they can be pretty harsh on the eyes after a long session. Adding some softer accent lighting can help create a more relaxed atmosphere while still providing enough light for gaming.
avoid glare on your screen. That means no bright overhead lights – instead, try softer, diffused light from lamps or even LED strips.
You also want to make sure there's enough light to see around the room so you don't trip over gaming equipment or cords.
Finally, if you're into streaming, you'll need to consider lighting for your webcam too. Natural light is always best, but if that's not an option, look for a light that won't wash you out or make you look like a deer in headlights. With a little planning, you can create the perfect gaming environment.
With these tips in mind, setting up the perfect gaming room is within reach. Just remember to take your time and plan ahead so that you end up with a space that's both comfortable and functional.
FAQs
Which Colour Light is Best for The Gaming Room?
There are a few things to consider when choosing the right color light for your gaming room. First, think about what type of gaming you'll be doing in the space. If you're primarily gaming on a console, you'll want to make sure the light is not too bright or harsh, as it can interfere with the television screen. However, if you're gaming on a computer or streaming, you'll need a brighter light so that you can see the keyboard and screen more clearly. Second, consider the mood you want to create in the gaming room. If you want it to be a more relaxed space, softer colors like blue or white may be more appropriate. However, if you want to create an adrenaline-pumping environment, brighter colors like red or yellow may be better suited. Ultimately, it's important to choose a light that will help you create the ideal gaming experience for yourself and your friends.

What's the Best Color Temperature For Gaming?
The short answer is 6500k. This temperature is the best color scheme for gaming as it improves focus during gameplay, and the yare not stressful to the eye.
What Type Of Lighting Is Best For Gaming?
LED lights are the best and most commonly used in gaming room lighting. It's available in many colors and temperatures. It can be customizable and can work well with different shapes like LED strips. CFL (compact fluorescent bulb) is considered as well.

Is RGB Lighting Worth It?
RGB lighting similar to LEDs, with the feature of displaying many colors at once, Nowadays many streamers and gamers consider RGB lights, you'll find it in PC Fans mostly, try not to fill your room with RGB lights as it might be distracting and stress at some point.
Is it better to play games in the dark or light?
Don't play in extreme sunlight or dark room, make sure your lighting is optimized in a manner that doesn't hurt your eyes. Don't play for hours, long sessions harm your overall health, take breaks frequently and get yourself a break day to do other activities.
Wrapping Up
When it comes to creating the perfect gaming or streaming setup, one of the most important things to consider is lighting. By choosing the right mix of ambient, task, and accent lights, you can create a space that is both functional and stylish. So put down that desk lamp and take your setup to the next level with these gaming room lighting ideas!